Hazel contacts

E-mail
girlscolorhelp@gmail.com
Do you wish to change your dark brown eyes to hazel color eyes?
If you have light brown affiliated color eyes, changing into hazel color eyes is not hard. Using colored contacts that have very light brown and light green colors mixed color will let you have vivid hazel color eyes. This is because if you wear contacts with down toned brown and green color mixed color, your eyes might have khaki color.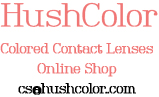 HushColor uses the credit card payment and account payment of PAYPAL, which is ranked #1 in market share and security among GLOBAL credit card payment company. Customer's credit card information is not stored in HushColor, so do not worry about security problems.

The celebrities named or featured on hushcolor.com have not endorsed recommended or approved the items offered on site ⓒ 2012 http://www.hushcolor.com All right reserved
Privacy & Cookies
Terms & Conditions
Accessibility About Us